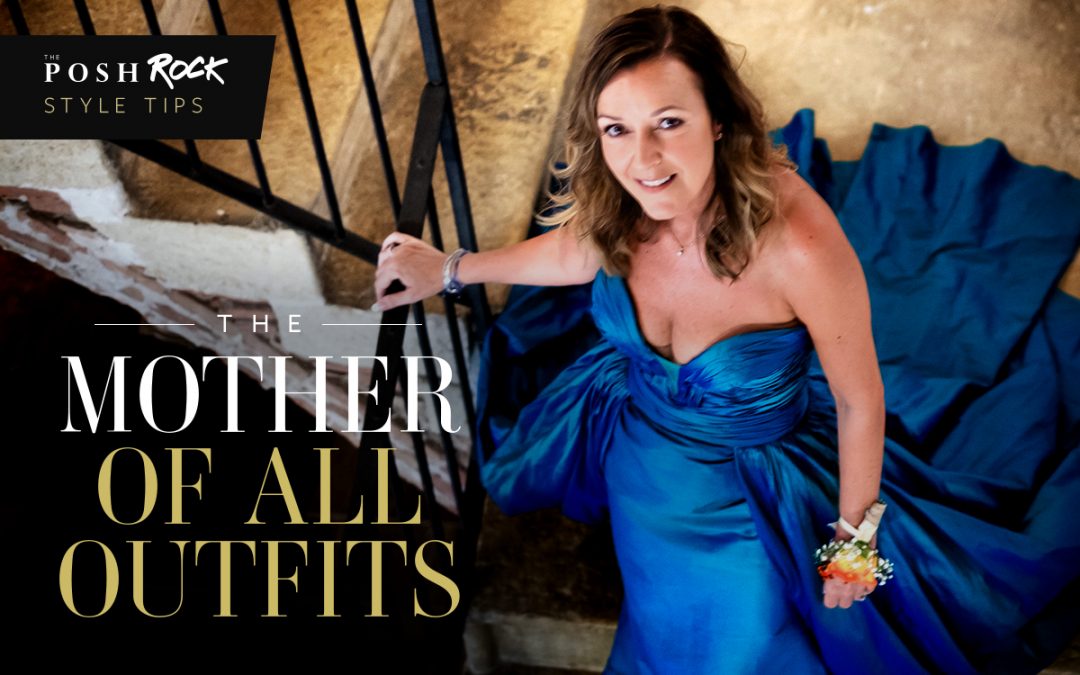 Towards the end of last year, I was lucky enough to see my eldest daughter get married at the beautiful Casa Felix which sits in the town of Olivella, Barcelona. While I couldn't have asked for anything more from the day itself, I'm sure I won't be alone in saying I had some apprehensions in choosing what to wear as mother of the bride!
There are some dreaded, rather unfair, stereotypes out there – often related to frumpy dresses, dowdy hats and tan stockings. And, of course, in true Posh Rock style, I wanted to avoid them all!
To capture the countryside location, Charlotte picked a gold theme with Spanish sunflowers to decorate the rustic venue. Choosing a Jenny Packham evening dress as her wedding gown, this was the starting point for my own outfit and influenced the shape and style I would go for.
Charlotte's only rule was that I went big on the glam (no need to tell me twice!) and so I followed suite with an evening dress from Jovani which I hunted down in Harrods. While I don't profess to always be the boldest in my fashion choices, I always try to push myself out of my comfort zone. I absolutely fell in love with the colour and silk taffeta and I really did love wearing this dress for what was such a special occasion.
As wedding season approaches, here are some of my favourite looks –
Floral and flirty
The sheer detailing on this dress is great if you want a ballgown feel, without all the fabric. Soft pastels are a go-to for weddings and I love this blush pink shade for summer.
It can be easy to go a bit elaborate at weddings but, for pieces that already have some texture or detailing, keep the accessories simple. The pearl clasp on this clutch adds a touch of glamour without too much fuss and will soon become a great wardrobe staple.
If you can't imagine a wedding outfit without a hat, then finish off with this gorgeous fascinator from John Lewis.
1. Chi Chi: Theron dress (£80)
2. Chi Chi: Livvy Heels (£50)
3. John Lewis & Partners: Angelina Floral Down Brim Disc (£120)
4. Chi Chi: Unah Bag (£34)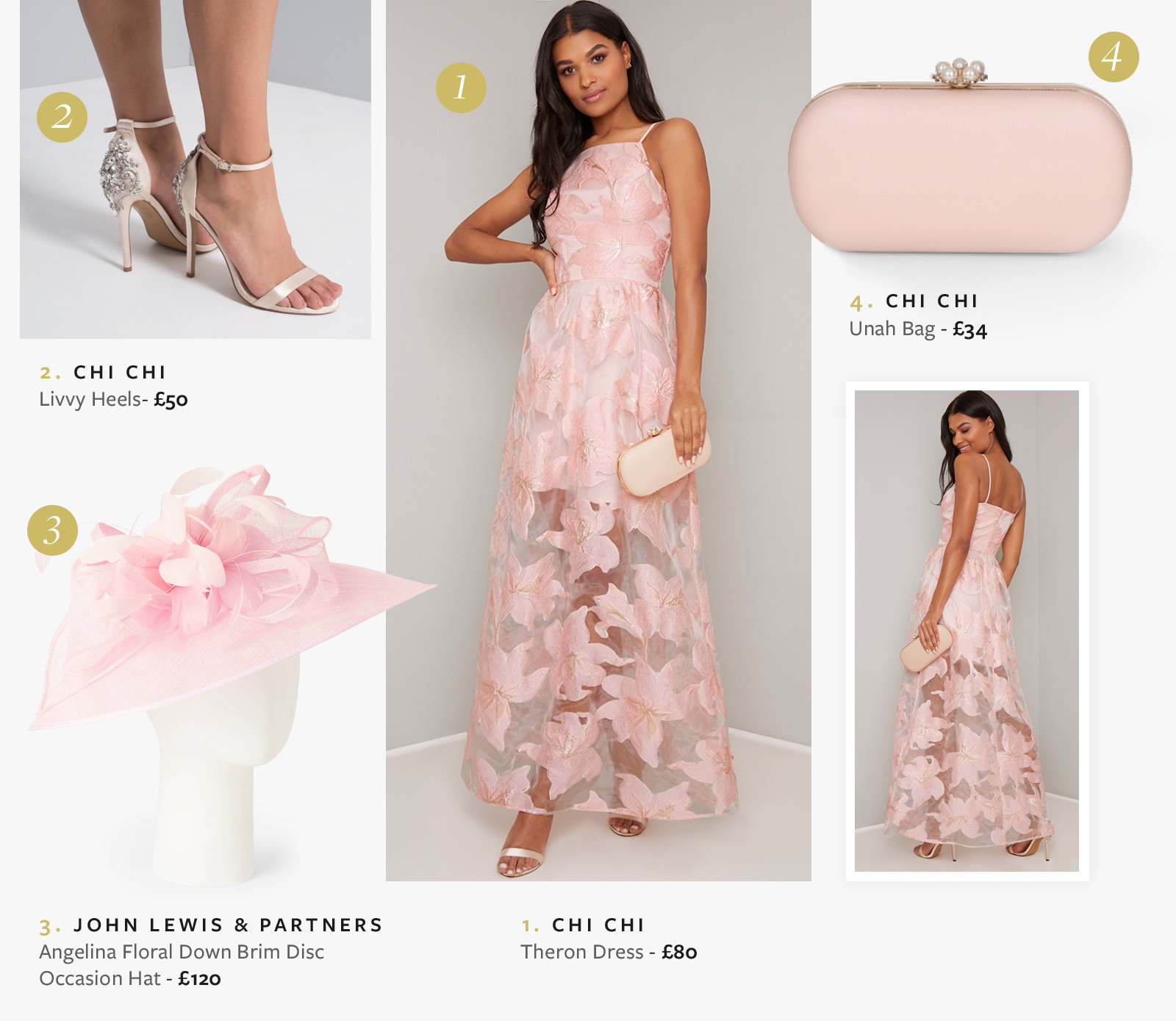 Green with envy
This is one of my favourite looks… A pencil dress is smart and chic. The bold floral print has just a hint of 1960s about it and is great if you're not keen on something frilly or with lots of layers. The fascinator may seem a bit 'out there' but is a great alternative to an overly complicated up-do. A sleek ponytail is all you need and you're good to go. A great look to recycle for a day at the races, finish with a pair of timeless black pumps.
1. Mui Mui: Ruch floral-print silk-blend cloqué midi dress (£2,025)
2. Luisaviaroma: Aquazzura 105mm Deneuve Suede Pumps (£490)
3. John Lewis & Partners: Jasmine Feather Mesh Fascinator (£65)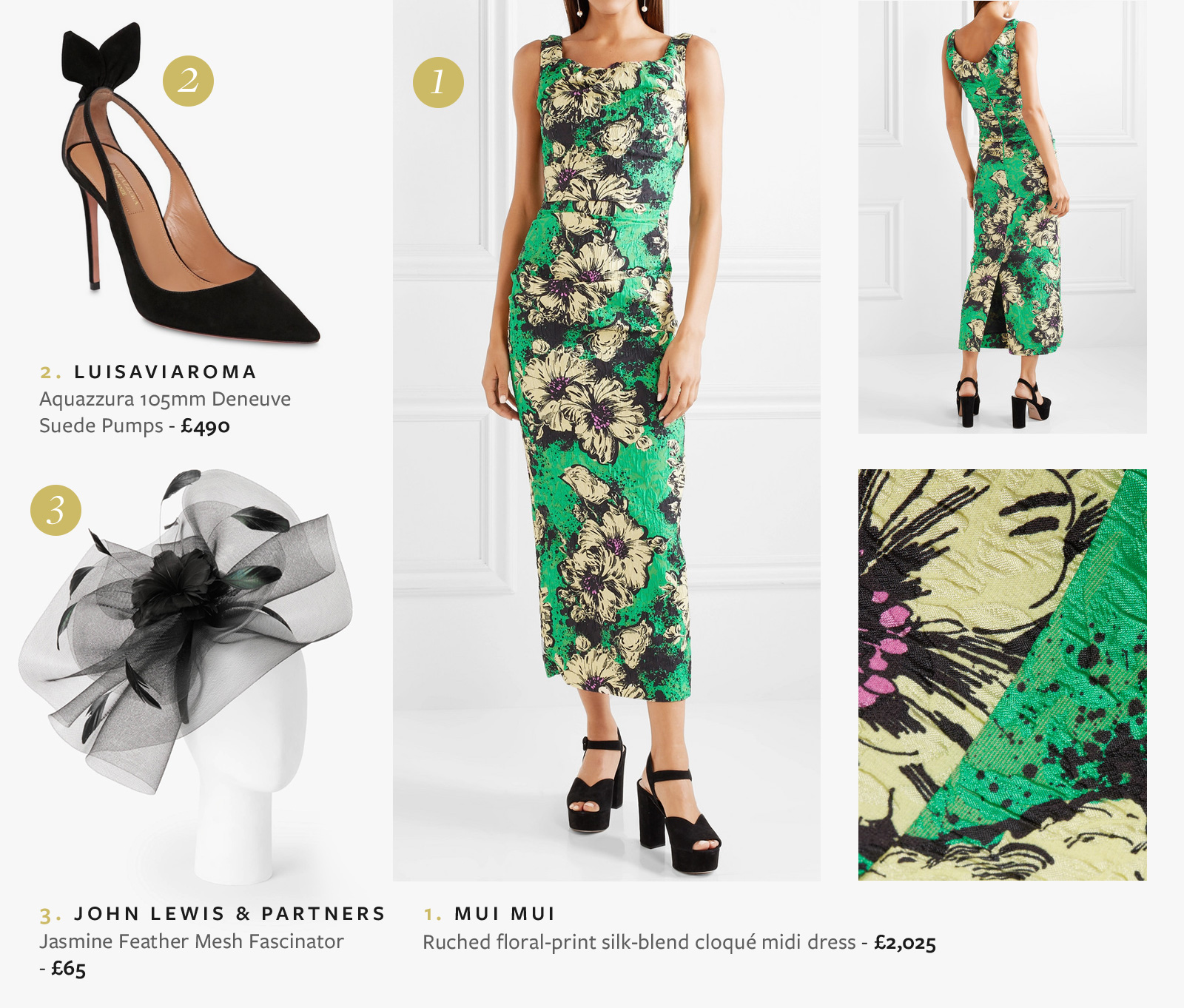 Give 'em the cold shoulder
If prints aren't your thing then this nude top and dress combo from Forever Unique is a great choice. Depending on your complexion, nude tones can leave you washed out – so make sure you go for brighter tones for your make-up. For summer weddings, I love a coral lip –apply a light layer so that you keep the look soft and feminine. A good mani-pedi is also a great way to inject some colour, especially if you're opting for a pair of strappy sandals like these stunners from Steve Madden.
1. Forever Unique: Taupe Bardot Off-Shoulder Pepium Top and Midi Skirt (£165)
2. Jane Taylor: Aurora disc hat (£855)
3. Steve Madden: Stecy Blush Barely There Heeled Sandels (£70)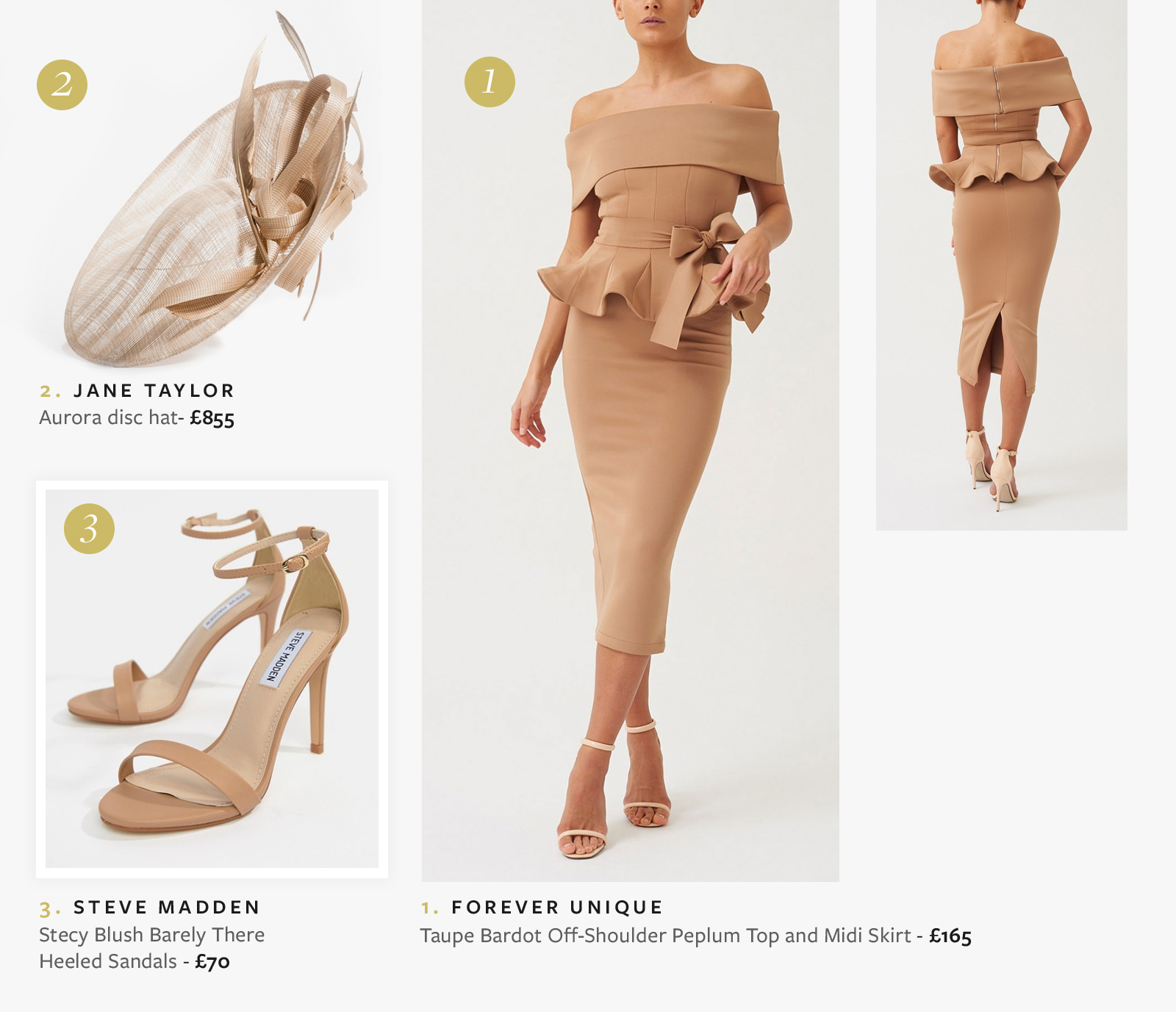 It's Vogue, darling…
There's never a one size fits all' approach to wedding outfits. Country outdoor wedding, abroad wedding, registry office wedding… each theme and style should be reflected in what you wear. This gorgeous blouse and skirt from Zara is what I call 'vogue' wedding. Think champagne reception and string quartet… The bow detail provides some old-school Hollywood glamour and the colour means you'll stand out from the crowd.
1. Zara: Fuschia satin skirt (£69.99)
2. Ted Baker: Alaina Woven clutch bag (£99)
3. Amina Muaddi: Belgium crystal-embellished satin slingback pumps (£685)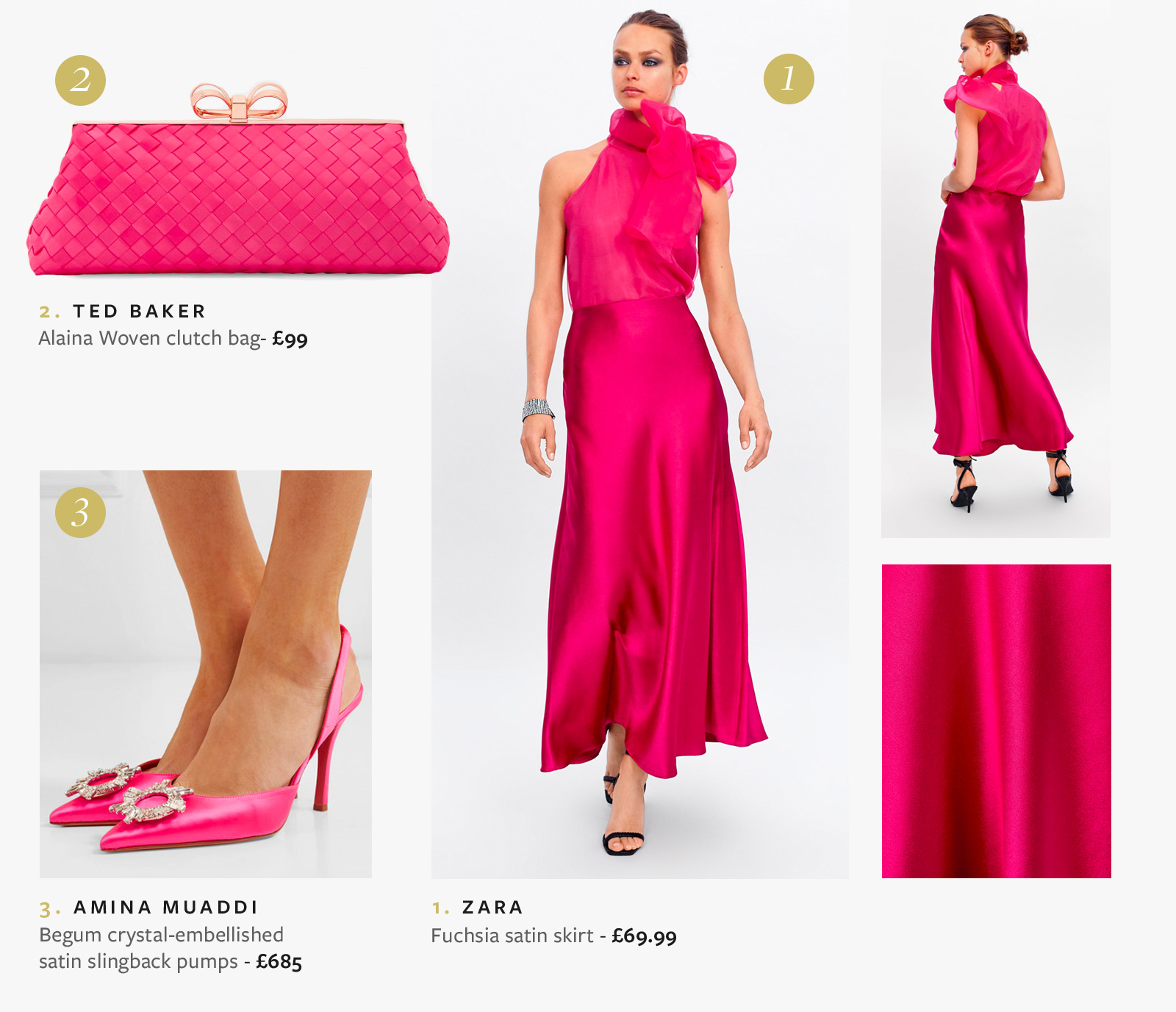 Walking the walk
Mother of the bride outfit doesn't have to = dress and jacket. I love this belted jumpsuit from Zara (at £89.99, it's a steal!) The sweeping fabric breaks up the outfit and provides a touch more glamour if you're worried about looking too suited and booted.
Again, don't always automatically reach for the fascinator. I am in LOVE with this 80's inspired hat which screams 'I mean business.' Vivienne Westwood are my go-to for staple accessories and I've finished off with a patent black clutch.
1. Zara: Belted jumpsuit (£89.99)
2. Mango: Ankle-cuff sandals (£35.99)
3. Vivienne Westwood: Private envelope pouch (£140)
4. Awon Golding: Luna hat (£645)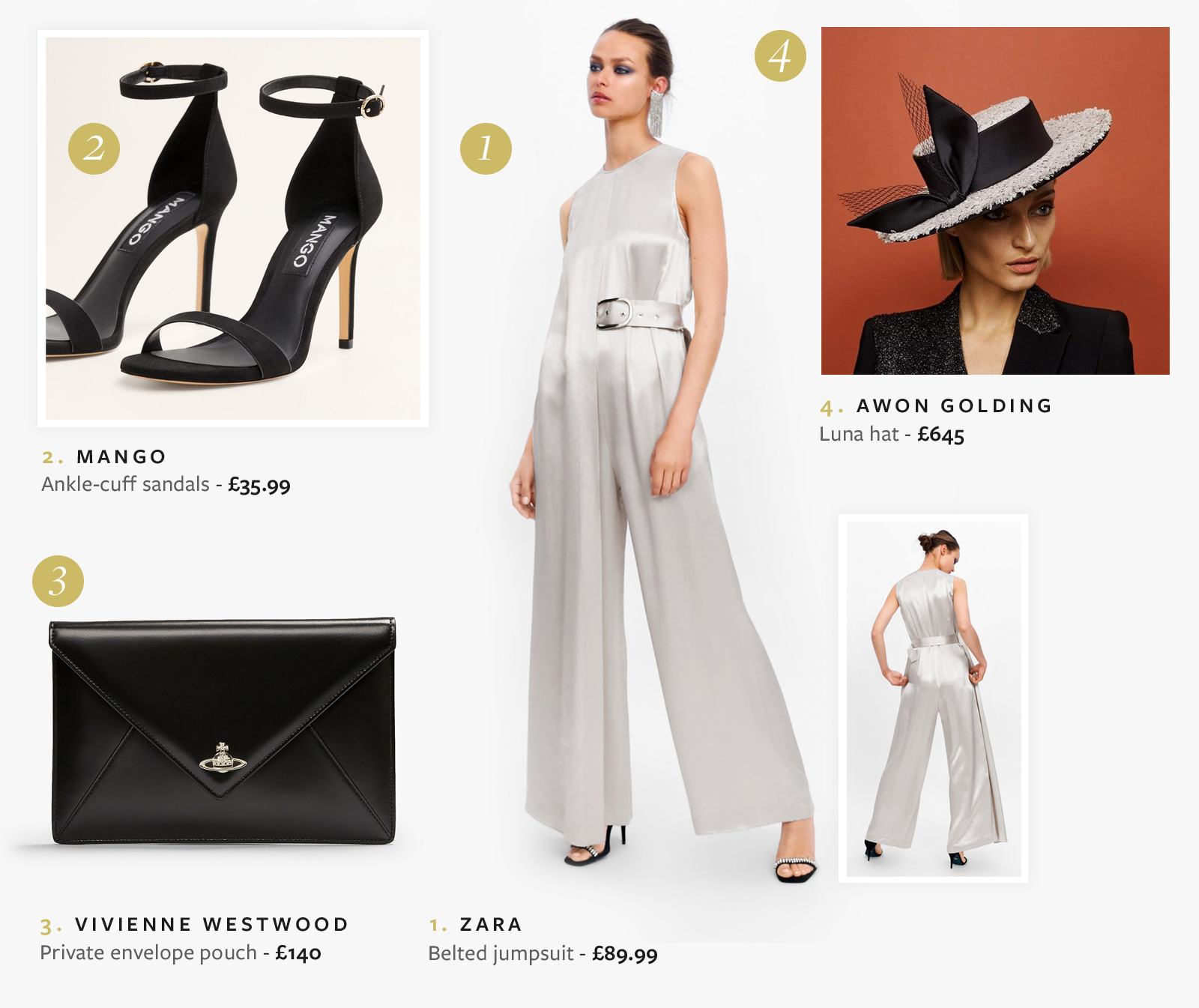 Fresh and fun
Length of dress is another minefield on the list of Mother of the bride Do's and Don'ts. While I wouldn't necessarily recommend a mini skirt, we need to get rid of this ridiculous notion that women over 50 can't wear anything higher than knee-length.
Lastly, don't be afraid of lighter colours at weddings. I love the muted grey shades on this dress which you can accentuate with metallic accessories like these drop earrings.
1. Quiz: Grey and Pink Floral Wrap Dip Hem Dress (£29.99)
2. Quiz: Cream Straight Edge Crop Jacket (£17.99)
3. Quiz: Grey Twist Bow Fascinator (£9.99)
4. Ruby and Oscar: Pearl 8.0mm Grey Earrings in Sterling Silver (£85)