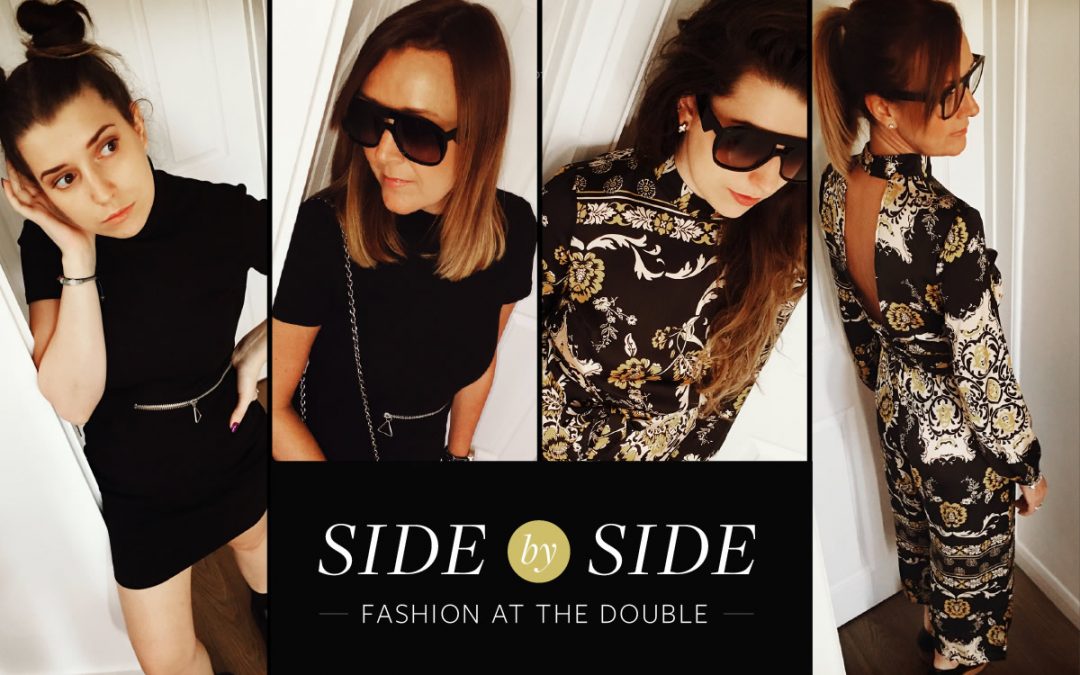 Welcome to the first of our side-by-side spotlights! Here, my daughter Emilie and I take some of our favourite outfits and offer up tips and hints on how to style them two ways – final proof if it's needed that #fashionisageless.
Emilie is one of my biggest fashion inspirations and is always encouraging me to step outside of my comfort zone. I like to think I've taught her a few things along the way too!
We'd love to see your mother and daughter pics. Head over to our Instagram page and tag us @theposhrock with the hashtag #sidebyside.
Look no.1: Zara Chanel check top and shorts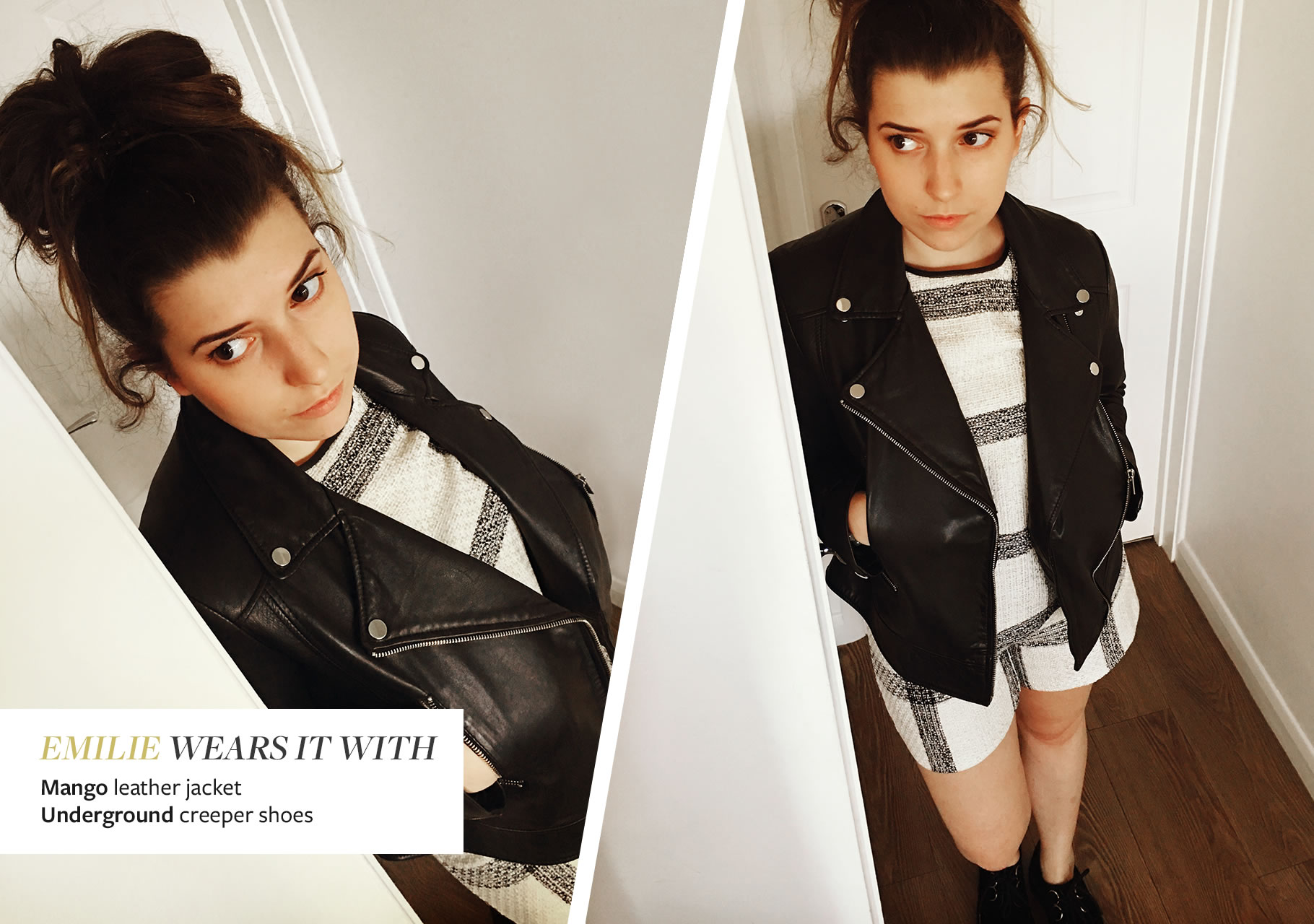 Safe to say that co-ords have been the 'look' of 2016! I like to keep mine matching for an easy-to-wear style that can be dressed up or down. These creeper shoes give it a chilled vibe and if you're short like me they are great to add some height but comfortable at the same time. The leather jacket adds to the whole 'just threw this on' look – my go-to for mooching around campus and adds edginess to the 'twee co ords'.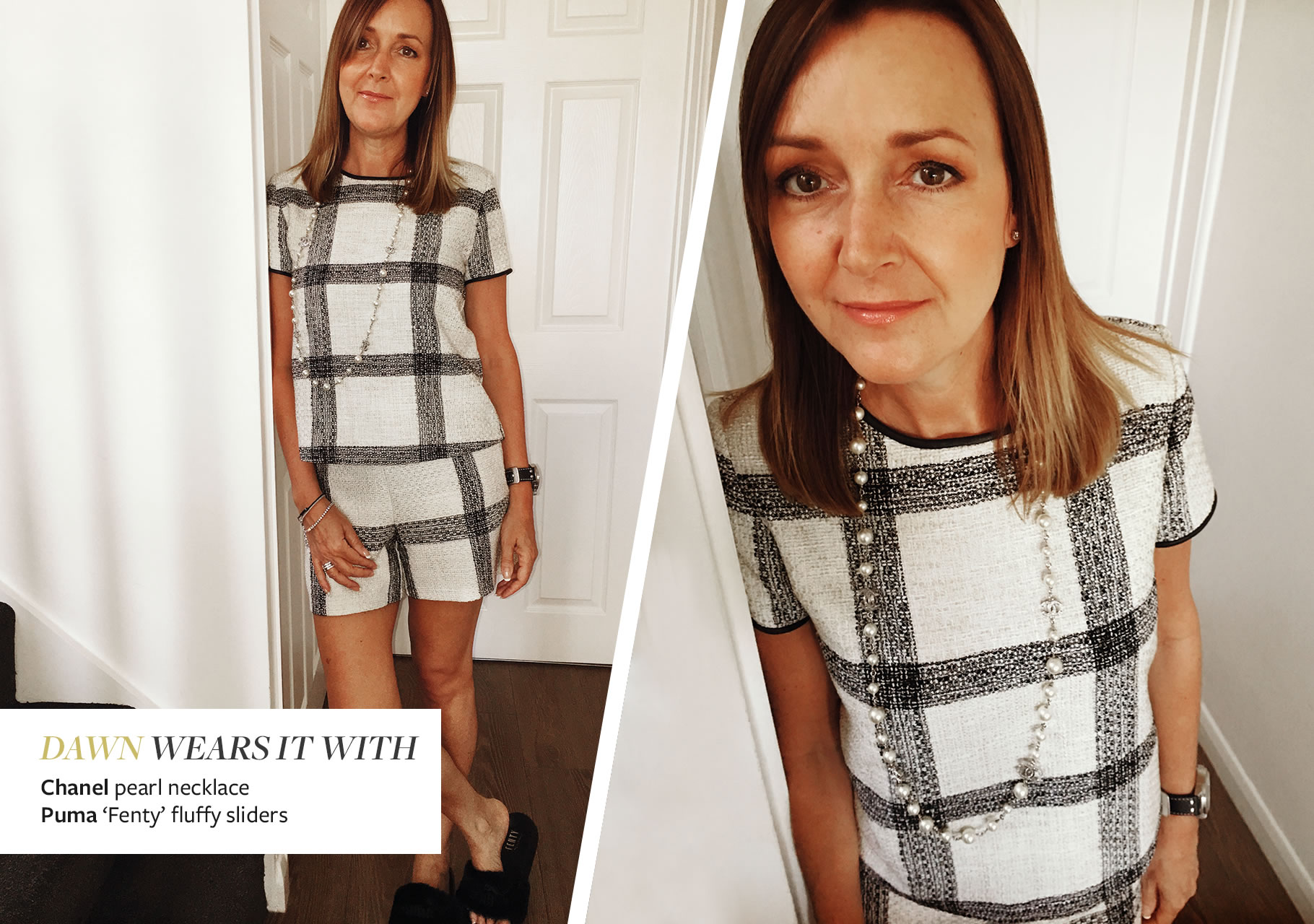 This is a great option for informal dressing the smart way. The check and fabric combination offers a nod to Chanel's classic tweed twin suits – add a pearl necklace to go the whole hog. I love this look for meetings and around the office. Take it to post-work drinks by adding a leather jacket like Emilie's and a pair of chunky flatforms. For Autumn/Winter add a smart black suit jacket, black tights and heels.
Look no.2: Black dress – Cheap Monday at Urban Outfitters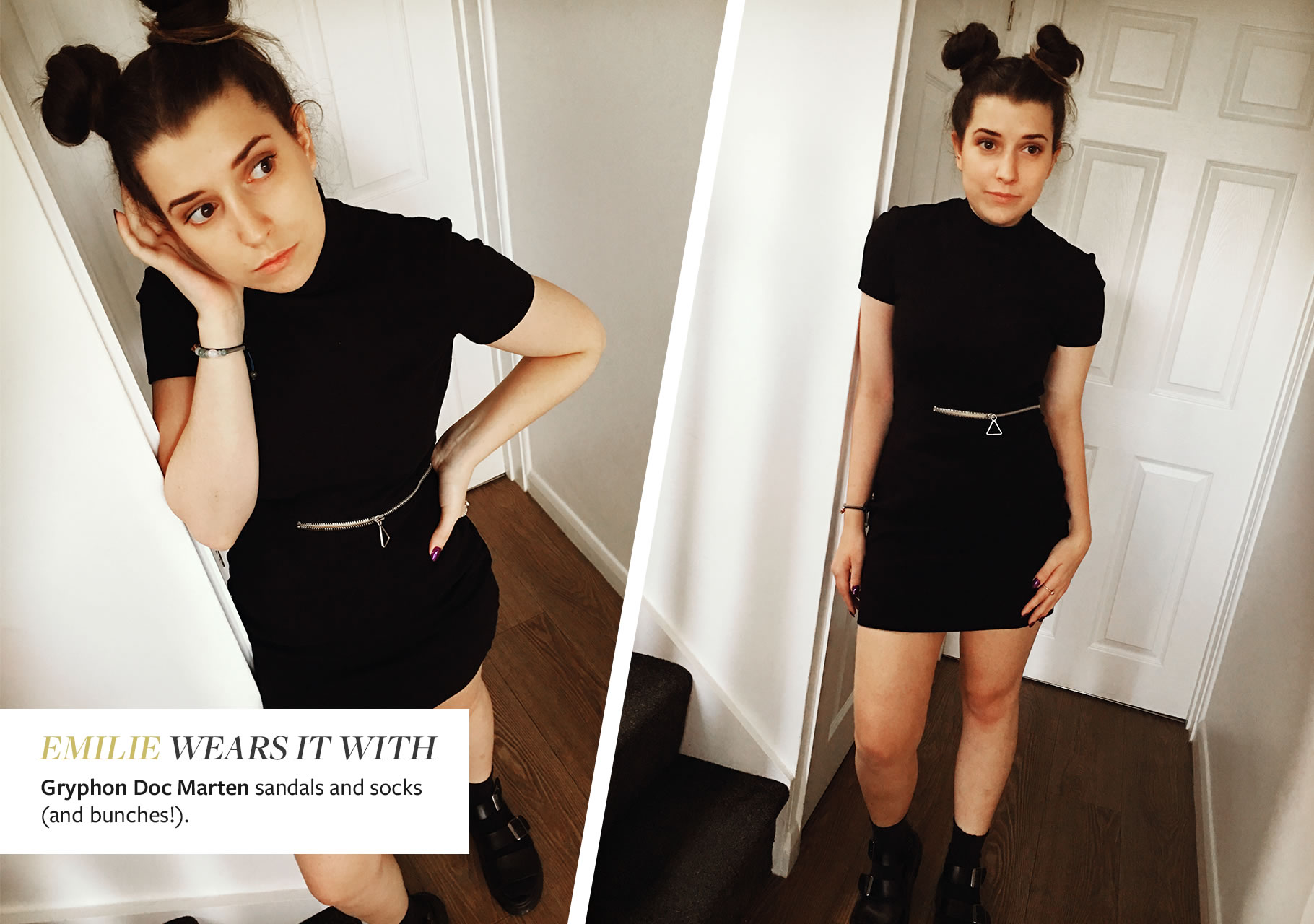 I love the zip detail on this dress. Messy bunches and heavy Doc Martens add an alternative to the LBD; striking the perfect balance between alternative and everyday. Great for one of those Tinder dates… definitely will get you noticed!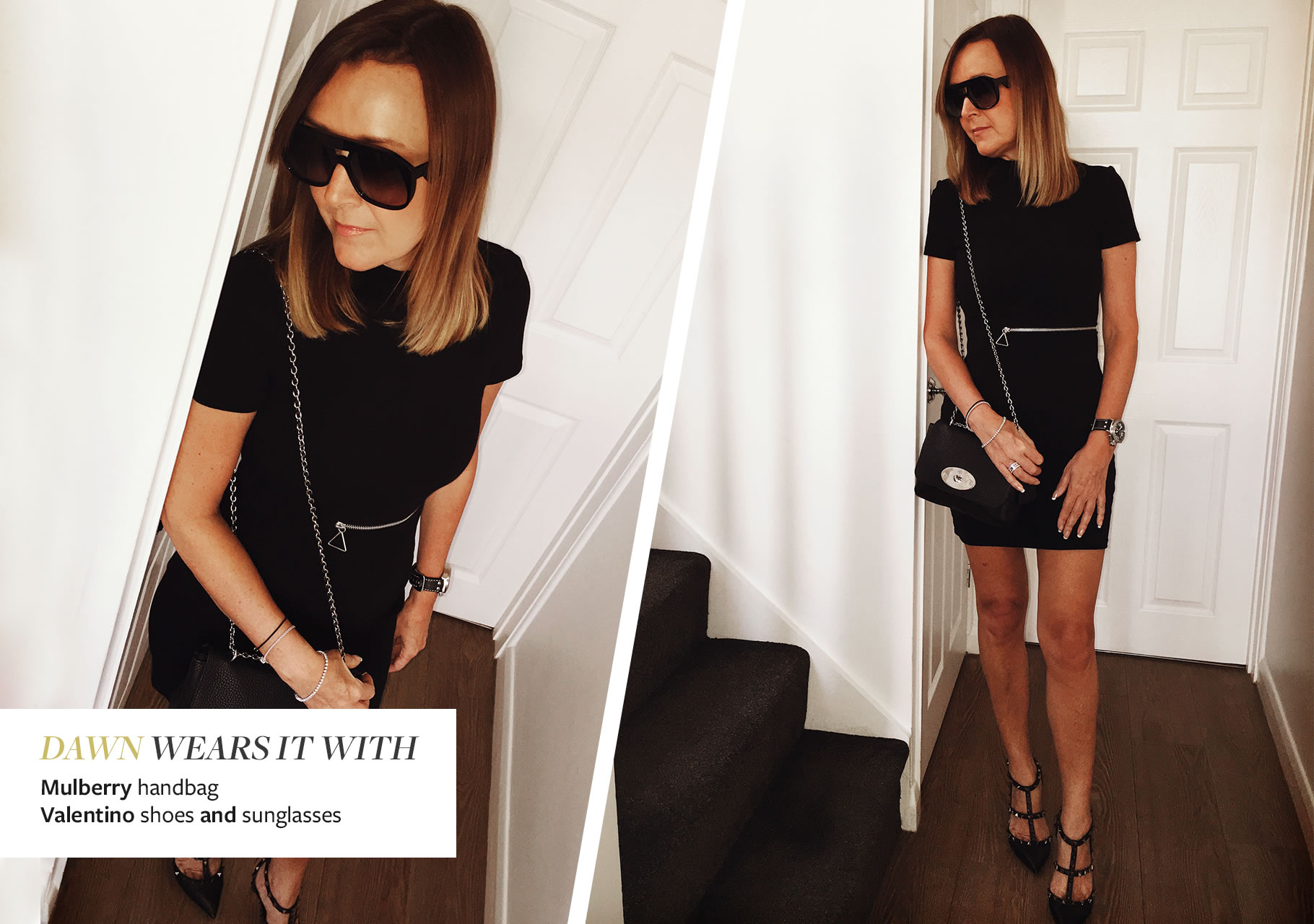 These studded Valentino shoes are a grown-up way to toughen up a slinky dinner dress. Layer up with a stack of elegant silver bangles and add an investment handbag like this Mulberry number. Sunglasses – the much under-appreciated accessory – are a great finishing piece to any outfit. Black tights, pumps and a co-ordinating jacket will transform this dress for the office.
Look no.3: River Island flowery jumpsuit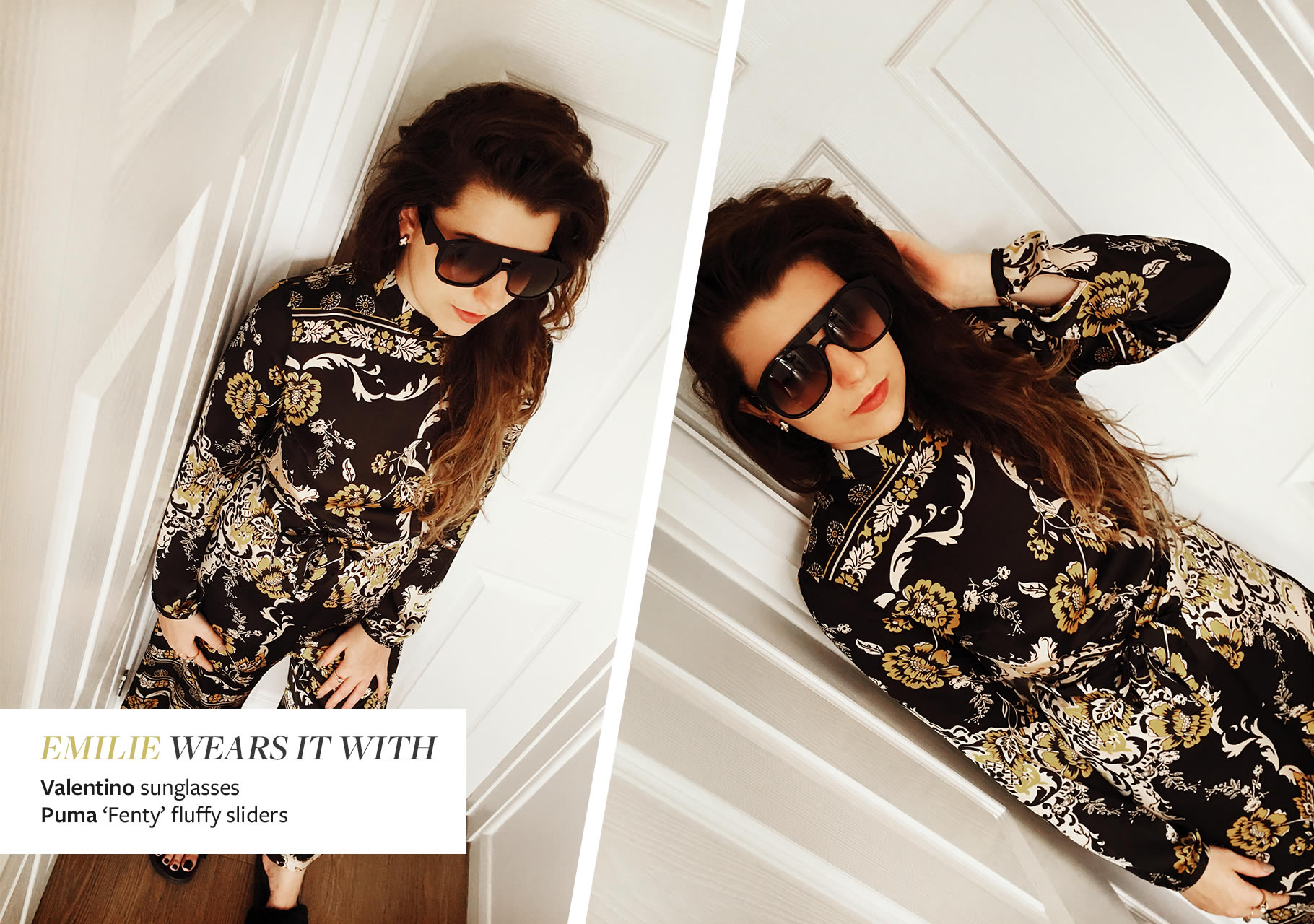 1960's inspired jumpsuit, with its cuffed sleeves and high collar and added modern/futuristic accessories. Combining 60's style with contemporary sunglasses and a laid-back puma slider gives a more easy-going feel. To complete the look, grab a small black over the shoulder bag or even go hands free and embrace the hippie side of you!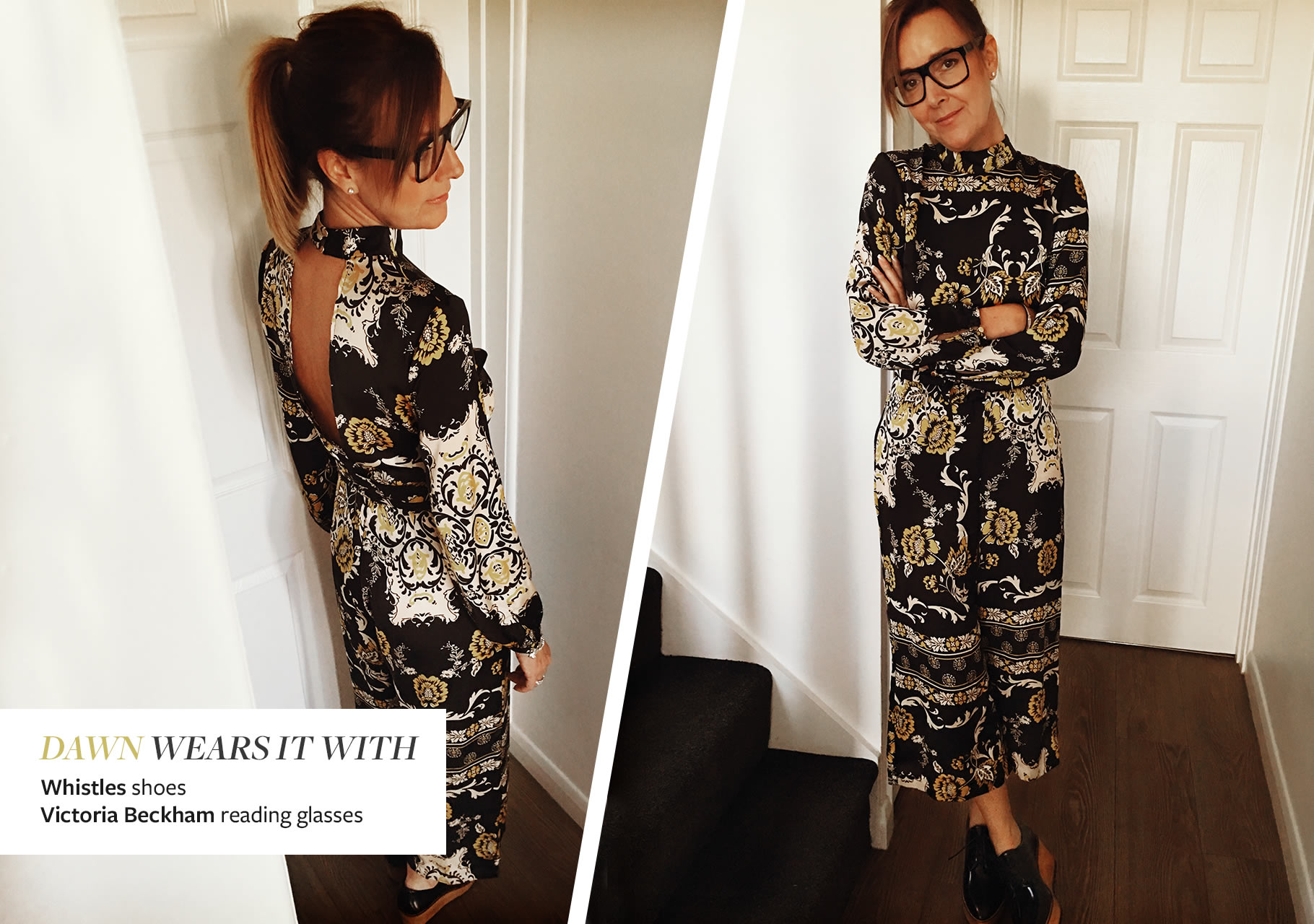 Taking some tips from Emilie with this outfit and adding a pair of 'on trend' shoes to add some 'edge' to quite a delicate floral piece. These Whistles brogues should be a staple in anyone's wardrobe, they're so versatile. The Victoria Beckham eyewear allows you to transition and take this outfit from the office to eveningwear. Drape a cardigan or jacket (I wear a silk bomber jacket) over during the day and reveal the cut-out later on.