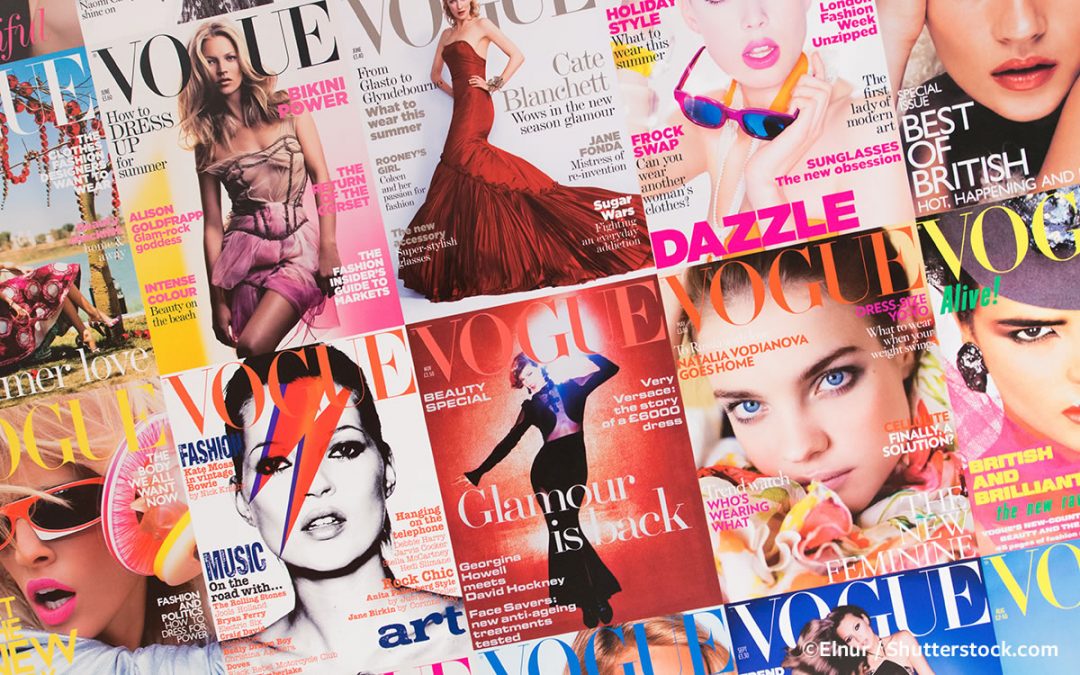 My biggest fear when sitting down to watch BBC2's latest fly-on-the-wall documentary was that it would resemble a Devil Wears Prada parody. A combination of crazed women elbowing people at sample sales one minute, a sea of ice-cold fashion editors the next.
Absolutely Fashion: Inside British Vogue saw documentary maker Richard Macer go behind the scenes at Britain's biggest fashion bible for nine months. You can catch it on BBC iPlayer if you missed it. From attending London Fashion Week to a slightly awkward on-shoot chat with Kate Moss, there was no aspect of life at Vogue that Richard wasn't privy to.
Unsurprisingly, the focal point for much of the show lay with Alexandra Shulman and I was keen to see what pearls of wisdom (and pearls from Chanel) she would bring. But 30 minutes into episode one and it all started to feel a bit lacklustre, to the point that I wondered why she had invited the cameras in at all. (Although, maybe she didn't…)
The longest serving editor in British Vogue history seemed cautious to give away too much or to lay all of her cards on the table. Having a camera stuck in your face must be a daunting prospect but I couldn't help feeling we were being kept at arm's length. Maybe this was for fear of presenting Vogue in a way that so many people already expect – something that is superficial and, essentially, disposable.
I think people my age buy Vogue to find inspiration for individual pieces so they can fit in with new seasons and trends – but are not always brave enough to turn this inspiration into a purchase.
This cautiousness around portrayal was mirrored across the team. In the first episode, Richard recounts a conversation with the beauty department – "The other day I was talking to the beauty editor. She said, 'I hope you don't portray us as people who are just obsessed with blusher. I mean, we are obsessed with blusher but we're interested in other things too."
It's this sentiment that I was desperately hoping to see more of throughout the 2-hour documentary. These women were all smart, witty and business-minded. They just also happened to have great handbags. Sadly, I think there's still a perception that women have to be one or the other.
It wasn't all doom and gloom however – far from it. Some more intimate moments included a touching interview with Alexandra's mother during the first episode, who spoke about how proud she was of her daughter's rise to the top.
We also met colourful characters such as Lucinda Chambers, one of Vogue's fashion directors who's been there for 36 years. Here's a lady that completely embraces the notion that 'fashion is ageless'. Fashion conscious women hang off her every word as she dresses the young and beautiful of the industry and she proudly expresses her own creativity and style in the way she dresses herself.
I just wish Vogue would use its talents more to show women over 40 that they can be bold in their choices. I think people my age buy Vogue to find inspiration for individual pieces so they can fit in with new seasons and trends – but are not always brave enough to turn this inspiration into a purchase. One 'style at any age' issue per year doesn't really cut it when it comes to inspiring a generation, especially one with money to spend!
Episode two
Episode two made for even more uncomfortable viewing. Filmmaker Richard stressed the need for trust when making a film; the catalyst for which was an incident whereby Alexandra pretends they are going for a graphic on the centenary's front cover when in fact she knows that the cover star is the Duchess of Cambridge.
I appreciated the filmmaker's frustration and agreed with him on a number of points, but whether Alexandra was as much of a nightmare as Richard made out is sort of irrelevant. Instead, it came across as a tired cliché where we saw another successful woman in the fashion industry portrayed as the unfeeling ice queen. It also dominated to the point where we didn't learn much about fashion, culture or publishing.
So where next for Vogue? As the closing credits rolled, one scene stuck in my mind. The moment where Richard asked if Vogue would be here in another 100 years. Nobody had a single doubt that it would be. And while everyone Richard spoke to stressed that its online presence would probably be bigger, I agreed with them about its longevity. Vogue may have to stand up to ridicule now and again but it's more than up to the challenge, especially when considering what it gives back; giving emerging designers a voice, providing training for students and so on. If it can just crack the market for people like me then long may it reign!