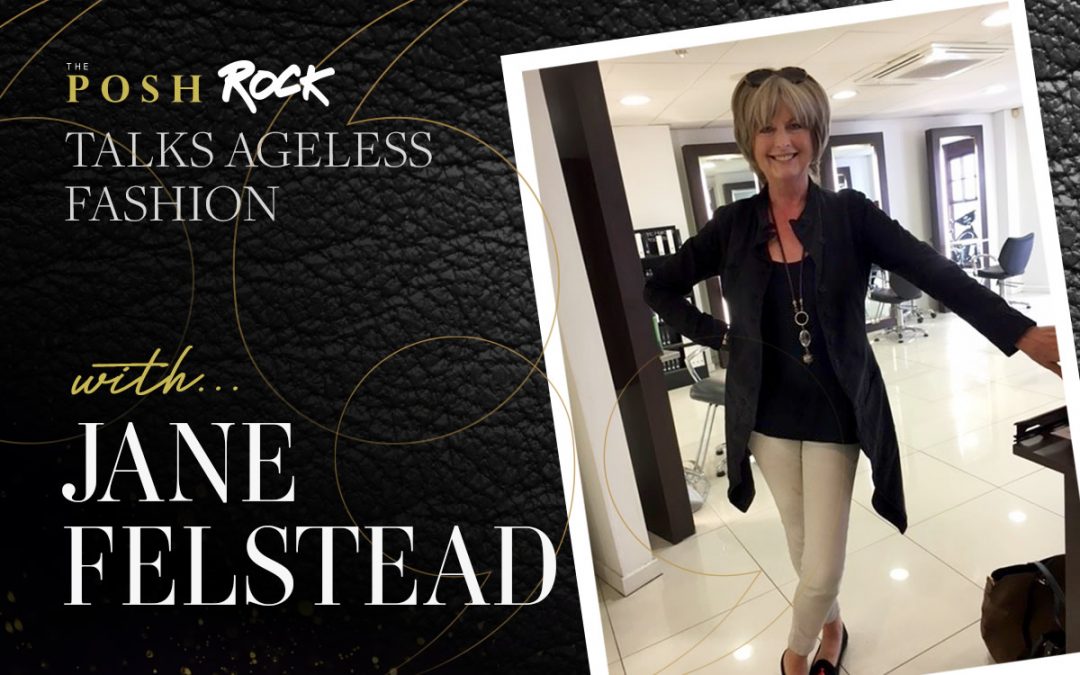 You may remember our excitement at a recent LFW campaign that had us cheering from the rooftops as we saw Made in Chelsea star Jane Felstead join forces with JD Williams to fight ageism on the runway.
This is a cause very close to the hearts of The Posh Rock team, so we sat down with Jane to chat about the campaign, walk through her must-have style tips and designers as well as how the industry can work together to champion fashion at any age.
We loved your campaign during LFW! Tell us what inspired you to get involved?
Thank you! Being on the show, I found that almost overnight I had this profile, which still seems a bit alien… I was having my picture taken a lot more and started writing a blog for The Daily Mail which meant I suddenly had this media presence.
I know my shape and what suits me so always tend to wear similar styles. I'm lucky that I'm surrounded by people who help to shape my fashion choices but women of my age group are still hugely overlooked. To feel invisible at my age is just awful and I wanted to do something about it.
Why do you think the fashion industry is still so slow to embrace a diverse representation of ages on the catwalk?
I think that the fashion industry is still scared to invest money into using older models on the catwalk or for campaigns. The truth is, their designs are never going to look the same on someone of my age or shape as they do on a size 8 model. They haven't got the balls to say, "okay, let's try this." They don't want to be known as "that label" which is just so tragic.
The only brand out there currently reflecting the older woman in fashion with any sense of accuracy is JD Williams and I truly admire them for it.
Has there ever been a time where you've been judged on what you're wearing or told to steer clear of something because of your age?
I remember going to a school sports day years ago, and wearing this floral dress that I'd picked out. And now I look back on it and thinking it looked absolutely awful.
I think it's more about growing into your style and knowing what suits you. If I go to a party, I still think to myself, "oh, I have to get a new dress" and I dread it. But now I stick to the staples that, over the years, I've come to know suit me. I love a statement necklace which can really just lift an outfit.
We're all intelligent women and can dress ourselves but there's very little choice for some people because of their age or shape.
Who are your style icons?
Joanna Lumley always looks fabulous because she's one woman who knows her style. I love Debbie Harry and that rock chick look too. I must have 30 biker jackets stored away which I love because they're great for enhancing what you already have.
Which designers are you most excited about right now?
What's your biggest style tip, for any age?
You simply can't afford not to have a classic white shirt. Avoid ones that are all tapered or made from that awful stretch material. Pay £70 or £80 and invest in one with a stiff collar and clean lines that you can wear with jeans, skirts and everything. It's a modern staple.
What's the go-to outfit you reach for when you want to feel most confident?
I have a cocktail dress from Ghost which I've worn countless times. It's got a gorgeous cut and V-neck detail which nips in at the waist and really suits my shape. Having some really stunning jewellery is a must and I love reaching for a gold flat from French Sole, they're just so stylish.
What would you say to women who don't feel confident embracing new styles?
Without a doubt, go to Selfridges and book yourself a session with a personal shopper. It's the best opportunity to just sit with them and offload. Plus, I think it's so easy to get stuck in a style rut when you're shopping alone, always reaching for the same styles or else ending up grabbing something in a panic. It's the best opportunity to branch out in a way that feels safe and with some confidence and the things that they bring out are fantastic.
What would you like to see in the future from the fashion industry for our age group?
I think half the battle is just talking about it – so, recognising that there are older people out there and trying not to make them feel so isolated. We're all intelligent women and can dress ourselves but there's very little choice for some people because of their age or shape. We talk about using older models but there's also a gap when it comes to bigger women. I see a lot of slim older models or larger younger models but very rarely any larger older models. It's high time we were all represented.